Wok on Fire:
"What?! Walk on fire? That's nearly the exact opposite thing I wanted to do when I started reviewing food!" That was my gut reaction to hearing where I was going to review first. After several arduous minutes, it was explained to me that it was not called "Walk on Fire," but instead called "Wok on Fire," a play on words of sorts. Even knowing that, I was as nervous as a person who was going to run on fire, slowly. Usually, the dogs come off after school, but today I tightened the LACES.
My experience with Wok on Fire started earlier that day. Roan and I had attempted calling the restaurant multiple times in order to tell them that we work for LACES Untied as food critics. What should have been a simple statement over the phone was confusing on both ends, and not only were we hung up on twice, but I think our good name as food critics was tarnished a small amount. 
When I stepped into the restaurant I was greeted with a pleasant smell, in the moment making me grin with excitement. We ordered food and waited to get the food … We didn't have to wait long.
We got Beef Lo Mein, Chicken Fried Rice, Thai Iced Tea, and Iced Green Tea for $33. It was on the expensive side of things, but I, usually miserly and shrewd, laughed because it smelled grand. One thing that did bring the wrath out of me and my colleague was that the $3.50 Iced Green Tea was just an Arizona, in the can, which famously costs $0.99.
While this may seem to be a rather negative review, it assuredly is not. That food was delicious. I killed that Chicken Fried Rice in minutes and the Beef Lo Mein was flavorous and powerful. Eating the food, the world seemed a little less evil, and more full of mirth. Even though I was sitting down indoors, I could feel a spring in my step and the wind in my hair. The food was great, it was rather oily but just about one of the best-tasting things I have eaten in years. It was flavorful and the texture was spectacular, nuanced, even classic, bringing back memories of times long gone. Wouldn't you pay a little more for that?
The food was well worth the cost. I couldn't be more pleased about the food itself. However unexpected and sad the Arizona incident along with the phone incident was, they are but small blemishes on the otherwise perfect record.
Something that caught me off guard was the fortune cookie I got as some sort of dessert for my meal. The fortune cookie was one of the best I've eaten, too. However, the fortune I got was really something else: "An admirer is concealing his affection for you." I hope he brings me more Wok on Fire.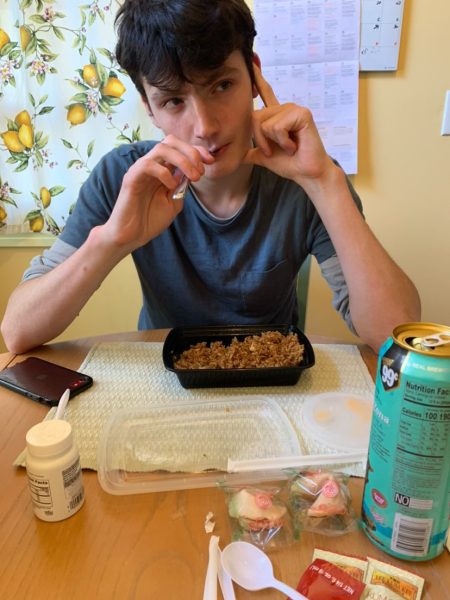 Taj Mahal of India:
Fool me once, shame on you. Fool me twice, shame on me. After the Wok on Fire situation, I thought no restaurant could throw me for a loop again. However, visiting the Taj Mahal of India, I realized I was but a naive boy. Expecting the elegance of one of the seven wonders of the world, I couldn't hide my disappointment when arriving at the Taj Mahal of India on Pico Boulevard. 
But we had to try the food. After reading many reviews online talking about an unpleasant lady dwelling within, the Taj Mahal of India piqued our interest, to say the least. We walked into an empty restaurant, the only occupied table held a single gentleman in a chef's outfit, who seemed to be sleeping. We were soon greeted by a sweet old woman, who brought us menus and water. The cook slinked back into the kitchen. The menu had more options than I could count on my fingers, which usually makes things harder for me. Eventually, we landed on the chicken korma and chicken tikka masala, with rice and garlic naan. 
The food arrived in some neat-looking cast-iron bowls, with a side dish of rice and two massive garlic naans. I loaded up my plate with rice and a combination of chicken curries. The chicken korma was tender and the curry was buttery but not too rich, with a kick but not too spicy. The garlic naan came in generous portions, but was a bit too crispy, with slightly too much parsley.
It tasted good overall and went well with the chicken curries. The chicken tikka masala was also delicious, but a bit spicy for my taste. I must add, as a white person the food was delectable, but there were some convoluted reviews online about its authenticity. 
Overall, the Taj Mahal of India was a very pleasant dining experience. Prices were on par with Indian food you would get anywhere else, with the tikka masala costing a smooth $11.95 and the Korma costing the same, and the food was very tasty. It is within walking distance from school and can be found at Pico and La Cienega.