For the past couple of years at LACES, there has been a rising, climbing popularity in the Cliffs of Id. With its close proximity to LACES and its easy accessibility due to the 217 bus route, the Cliffs of Id is a favorite locale for LACES students of all ages. Like many other climbing gyms, a membership will fetch for a high price, but it has not stopped LACES students from climbing and leaping all over the cliffs.
To many looking into climbing, Cliffs of Id (Cliffs) can come off as quite expensive, with a day pass costing $30 and the most popular membership option costing $100 off the bat and $95 more every month. However, for an increasing number of people, including LACES students, the price has become less of a turn off. 
"I used to think that the membership was expensive, but once I saw all of the amenities Cliffs has to offer for its members, I began to think less about the price," said Daniel You, a 12th grader and current Cliffs of Id member. "With all of the resources I have access to, I feel like the price is worth it."
While it may seem to someone outside the sport that Cliffs is expensive as far as climbing gyms go, in truth it costs the same as the other prominent gyms in Los Angeles. Cliffs is a part of the larger Touchstone Climbing, and many other gyms around Los Angeles. All these locations cost the same, but Cliffs is the largest location.
"At other gyms, you pay the same $30 for a day pass. But at Cliffs of Id, there's more climbs, and it's also bigger, so it is far more worth the experience," said You. "I recommend that new people who want to try out rock climbing should check out Cliffs of Id."
With the large location of Cliffs comes a vast variety of climbing routes, a 40 foot climbing wall, and boulders of all shapes and sizes. In addition, Cliffs includes a weight room, a sauna, yoga and even bootcamp classes. The ability to access all of these different climbs and other resources allows for climbers of all skill levels to enjoy and grow in their time at Cliffs.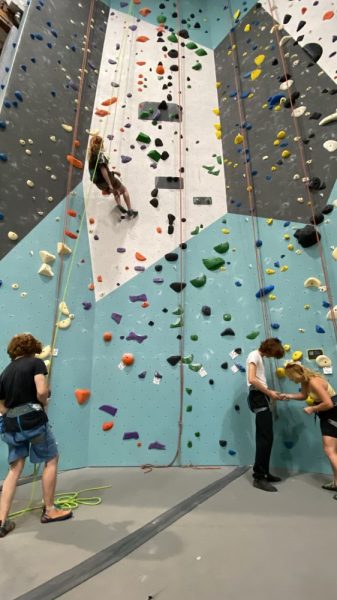 "Climbing at Cliffs was a rewarding experience since they had rock walls for inexperienced people like me," said You. "Other than the different types of walls, I was able to access the weight room, which for me is a win-win situation since I don't have to go to the gym as often if I am at Cliffs."
For many new members, the first experience can be daunting, but rewarding.
"My first experience climbing was very difficult. But after I finished a few climbs, I was very satisfied and I wanted to do more walls," said You.
9th grader Leo Morse, also known as "The Climbing Adonis", also enjoyed his first time climbing. Both of these climbers are now far more experienced and skilled than when they started, and still they go to Cliffs multiple times per week.
Other than its amenities, something that is especially important to Cliffs as a location and its climbers, is the community it has. This community extends to LACES, where both Morse and You first heard about Cliffs. 
"A bunch of people from school were going and so I thought it'd be cool if I could go too because I'd always been interested in rock climbing since I was a little kid," said Morse.
Word of Cliffs spread in a similar way to You.
 "The first time I heard of the Cliffs of Id was around 2.5 years ago when my friend Ian Lopez took me to Cliffs of Id," said You. "Ever since then, I have become a frequent member and will continue to go in the future."
For many, the community of Cliffs itself is a selling point, and employees have noticed a large increase in members as current climbers have been inviting their friends to become members. 
"We have a lot of space and the gym itself is nice, but one of the best things about Cliffs is that it is a community for all," said Mike Smith, an employee at Cliffs of Id. "Over the past few months, I have seen an increase in new members who were introduced to Cliffs by their friends."
Many LACES students have begun climbing at Cliffs in recent years, and it is by no accident that they continue to go. With its massive location, multitude of extra features and an enthralling community around it, Cliffs of Id may very well stand the test of time and continue to be a gathering place for all sorts of LACES climbers.